In February 2004, after a decision by the committee of international experts on geological heritage convened at UNESCO Headquarters in Paris, by the invitation of the UNESCO Division of Earth Sciences, 17 members of the European Geoparks Network and 8 Chinese Geoparks came together to create Global Geoparks Network.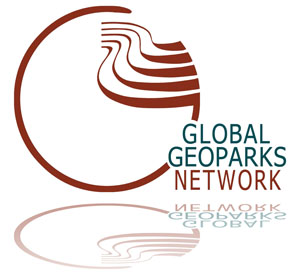 According to the official UNESCO Document which was the basis for the discussion at that meeting:
"The potential of Geoparks with their specific geological, mineralogical, geophysical, geomorphological, palaeontological, and geographical features, be used as a basis for enhancing the promotion of geological heritage in order to:
(i) educate the public at large in geological sciences and in environmental matters;
(ii) ensure sustainable development (geotourism); and
(iii) protect endangered geological heritage sites for future generations.
…the Division of Earth Sciences of UNESCO be invited to pursue the general objective 'Education in Earth Sciences', by promoting Geopark initiatives as an inter- and multidisciplinary activity, providing UNESCO's support to national initiatives on an ad hoc basis as requested by Member States;"
Ten years after, this evolving and creative Network celebrates it's 10th anniversary consisting from 100 Geoparks from 30 countries in 3 continents!
Today we should think to all those who contributed to the development and the achievements of the Global Geoparks, to all those who believed in the dream and made it a reality.
Ten years after, In February 2014, the Global Geoparks Network, can present concrete results, in Earth heritage protection, conservation and promotion as well as to the sustainable development of the territories and the communities involved.
Geoparks adopted a "bottom-up" or community-led approach to ensure that an area's geological significance not only could be conserved but also promoted for science, education and used as a sustainable economic asset, for example through the development of responsible tourism.
From the start of the development of the concept, the principle of networking has been part of the core philosophy of Geoparks. Networking has played a very strong role in the success of the Geoparks movement, has played a valuable role in facilitating the sharing of experience, formation of joint initiatives and projects and a highly significant role in capacity building.
Today, in the dawn of it's second decade, the Global Geoparks Network taking into account the resolutions of the 37th UNESCO General Conference will continue in 2014 the efforts to formalize the link between UNESCO and the Global Geoparks and will reply positively to the challenges towards the establishment of the UNESCO Global Geoparks.
Happy anniversary to all!