On 24 July 2014, Hongkong Post launched a new set of definitive stamps with 16 different denominations with "Hong Kong Global Geopark of China" as the theme. Along with these definitive stamps, other philatelic projects including first-day covers, souvenir pack and an aerogramme will be released. These definitive stamps are the world's first definitive stamp set featuring a global geopark, display the most unique scenic landscapes of all the eight geo-areas in Hong Kong Global Geopark.
Mr Alan Wong, Director of Agriculture Fisheries and Conservation (right)
and Mrs. Jessie Ting, Director Postmaster General of Post Office (left)
officiate at the 2014 Hong Kong Definitive Stamps Issuing Ceremony on 24 July 2014
To bring new philatelic excitement, special commemorative cachets in orange is concurrently released on 24 July 2014 and available only at Hong Kong Global Geopark Volcano Discovery Centre at Sai Kung, a gateway linking people to the Hong Kong Global Geopark.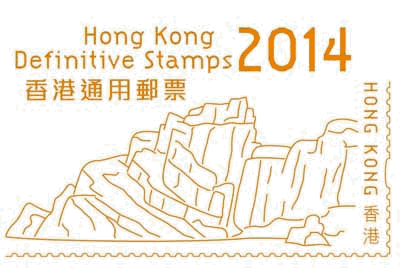 Orange cachet available at the Hong Kong Global Geopark Volcano Discovery Centre from 24 July 2014
Through the release of these philatelic materials, Hong Kong Geopark wishes to show the unique natural environment of Hong Kong to the world, while popularizing earth science and contributing to the promotion of the global geopark movement.